Profilo Aziendale, Soluzioni Informatiche, Information Technology
Partner ideale per l'Information Technology
Progettiamo e realizziamo soluzioni informatiche modellate per il vostro scenario di lavoro.
Grazie alla decennale esperienza in molteplici settori dell'Information Technology, ci proponiamo come partner tecnologico per tutte le esigenze informatiche della vostra azienda.
Lots of companies don't succeed over time.
What do they fundamentally do wrong?
They usually miss the future. Larry Page
Ci rivolgiamo alle aziende desiderose di essere sempre al passo con i tempi nell'era digitale ed utilizzare al meglio i vantaggi dell'universo informatico.
NAXE è Registrar autorizzato dal CNR.
(Registration Authority Italiana)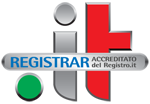 About us

Progettiamo soluzioni informatiche su misura. Offriamo servizi di consulenza mirata. Sviluppiamo soluzioni di eccellenza basate sulle nuove tecnologie e creiamo gli strumenti per agire ed interagire a tutti i livelli.