Content Management System, Content Manager, CMS, e-Solutions, Products.
NAXE - Content Management System
The content manager customized for your needs.
NAXE-CMS is a system for content management.
The use of the Internet today's scenario sees the interaction of the following actors:
Organization it intends to publish the information
Users that they intend to consult that information
For the nature of the Internet, the information must be available, so the organization will rely on a Hoster which holds on behalf of the Organization information, and ensures that they are always referenced from anywhere on the Internet.
Depending on the type of activity carried out by the Organization, the published information is definitely subject to more or less frequent changes. Within the Organization there are probably people with the competence to establish and maintain this information updated. This raises the need to interact with the hosted information hoster in the times and in various ways.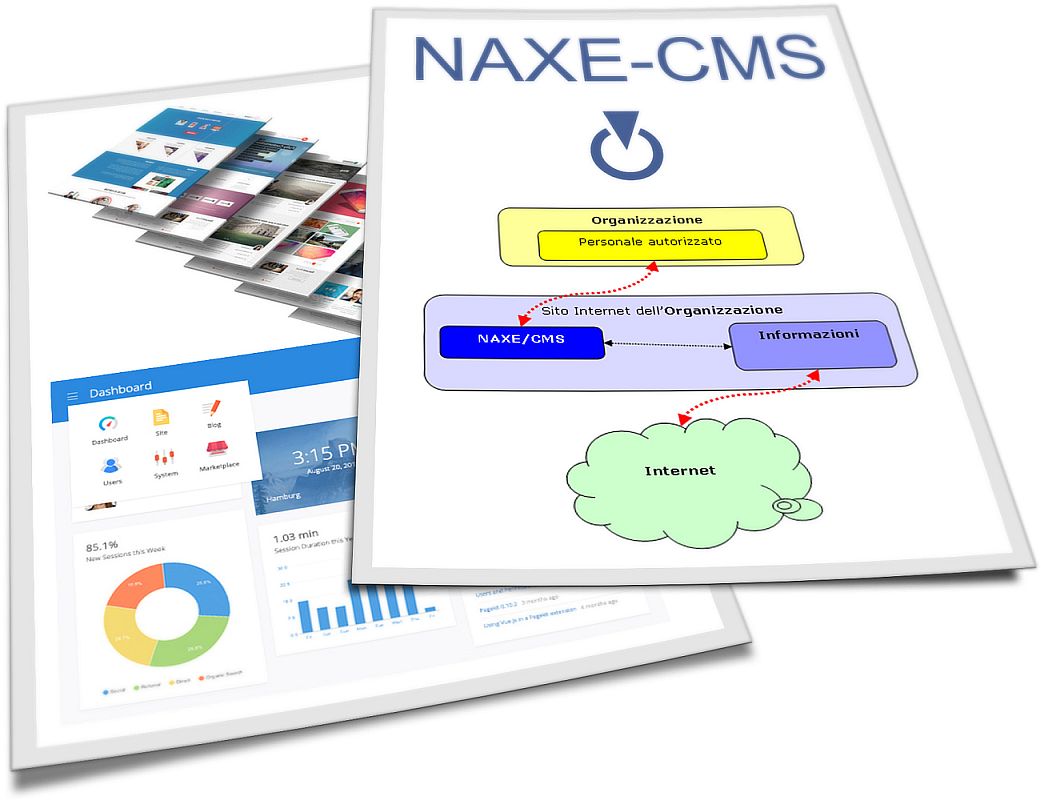 NAXE-CMS Diagram
NAXE-CMS is the solution for the scenario described.
It allows the Organization to draw up the information it intends to publish in ways more congenial to it, in fact the system can be customized according to specific needs, even the most peculiar. It is not the staff to have to adapt to the tools, but are the tools to be helpful to the staff, this is a philosophy behind the solutions offered by NAXE.
The information compiled with NAXE-CMS flow into a database that becomes the deposit used for the construction of the website presented to its users.
Significant feature of NAXE-CMS is that the Organization should not spend time in the layout of the information. The look of your job definition is agreed beforehand with experts graphics. Personnel should only worry about the information content, will then care system to publish information in an appropriate manner. This is the result of the separation of presentation logic from information made by the solution provided by NAXE.
The organization becomes independent in managing their content, a requirement which has become indispensable to interact in increasingly dynamic environments.
NAXE-CMS is:
Simple, because it is designed by usability experts and adapts to your needs
Fast, because it uses state of the art technologies in terms of performance and reliability
Secure, because it is designed by experts in computer security and internet protocols
Any product that needs a manual to work is broken. Elon Musk
By integrating our solution:
Your site becomes:
Beautiful, because it is designed by a team of illustrators, graphic designers and communication experts
Accessible, because of XHTML, W3C standards, CSS styles, etc.
Easy to find, because it is generated by techniques that search engines like
Successfull, updating it because it is closer to the needs of our users
Back to Products section